You are here
Hometown Holiday
This page has not been updated for Christmas 2014.  
We will begin updating it as plans are made, usually around October.
Join Wagener for our annual Hometown Holiday Celebration and Christmas Parade, December 6 & 7, 2013.  There will be special events on Friday evening and Saturday morning, including the Christmas Parade at 11:00 on Saturday morning.  Please notify Town Hall in advance if you will be placing an entry in the parade.
On Friday evening, 6:00 - 7:30 pm, you can catch special performances at the Pavilion.  Performances include the WSHS JROTC, Busbee Corbett Elementary Middle School Chorus, the WSHS Band, seen here from another year's celebration, and the group Crossover will perform.  Fireworks will be displayed following the performances.
Before  the performaces, you can enjoy a horse-drawn carriage ride around town, the pick-up place is at the Gazebo across from Town Hall.  Also crafts will be displayed and for sale in the park starting at 5:30.  New in 2013, we will have a carnival in town on both Friday evening and all day Saturday!
Around 7:30 pm we'll have the Tree Lighting ceremony followed by fireworks.
Horse and Carriage rides will be available from 5:30 - 7 PM on Friday evening.  You can ride around town and view the decorations and lights.  You can also use the carriage to visit local businesses.  You can board at the Gazebo.  Also enjoy a visit to the Wagener Museum.   The Museum is always open for Open House and this is a great night to visit the Museum if you've never done so.  The Museum is located behind Town Hall.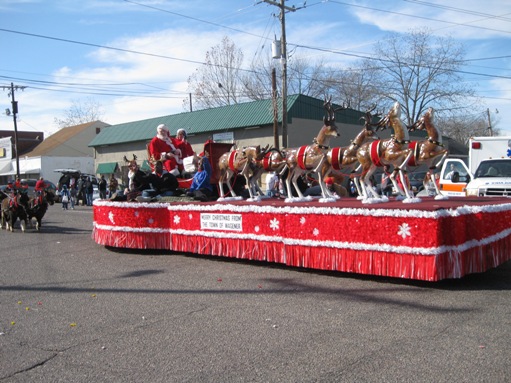 The Annual Christmas Parade will begin at 11:00 AM Saturday, December 7.  If you'd like to enter a float in the parade, you must register in advance.  You can register online by clicking the Hometown Holiday Event register button at the top of this page or you can register in person at Town Hall.  You can call the Town Hall at 803.564.3412.  Groups participating in the parade need to be at the Busbee/Corbett School by 10:00 a.m. to line up.
Prior to the parade, there will be a Community Yard & Craft Sale beside the Petal Shop, starting at 8:00 a.m.  Booths will be set up around the area with information on FOTAS, CPR Information and CWP.  A Carnival will be in town, opening at 9:00 am on Saturday.  A Car and Tractor Show will take place from 12 - 2 on Saturday.