Busbee and Starnes named to All-Star team
Courtesy of Wagener Monthly and Aiken Standard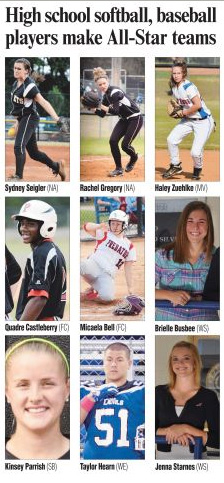 The bats have fallen silent as high school baseball and softball has come to an end around the state, but when the honors were handed out for the recently-completed season, area players made plenty of noise.
Brielle Busbee (Wagener-Salley) - Busbee is a Class A All-State selection after finishing her junior season with a .412 batting average and 23 RBIs. She also threw out 28 runners from her position as a catcher.
Jenna Starnes (Wagener-Salley) - Starnes went 7-5 on the mound with 106 strikeouts for the War Eagles. She made the Class A All-State team for the second year in a row. At the plate, she had a .500 batting averaging with 21 RBIs.
Pictured, from left to right, top row: Sydney Seigler, Rachel Gregory, and Haley Zuehlke; second row: Quadre Castleberry, Micaela Bell, and Brielle Busbee; third row: Kinsey Parrish, Taylor Hearn, and Jenna Starnes. Aiken Standard Staff photo.