Kent's Korner I-20 and Hwy. 39 Re-Opens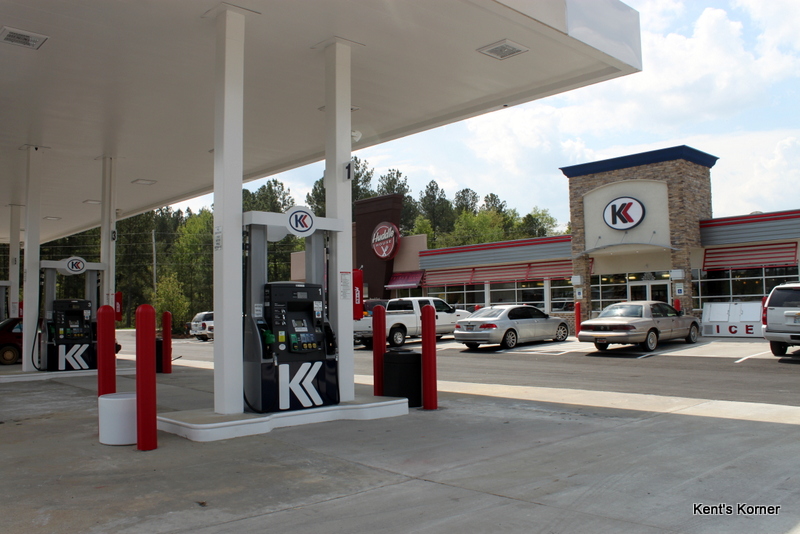 Kent's Korner Convenience Store #18 located at the intersection of Highway 39 and I-20 exit 33 has reopened with a fresh new look. The store closed on December 5, 2011 to begin a major update, leaving customers eager for the reopening almost four months later. It was well worth the wait.
The store reopened at noon on March 29th, but the Grand Opening was held on its first full day in service, Friday March 30, 2012. Each customer was given a free Hunts Brother pizza throughout the day. This Kent's Korner features Hunts Brothers Pizza as well as a full service Huddle House.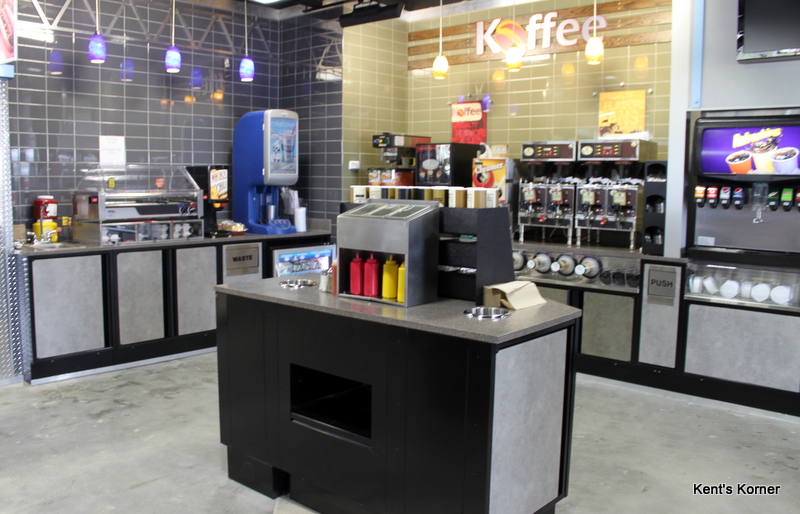 I spoke with Wendy Hartley, the store manager about opening the new store. "It's been really wild, very, very busy. The store is a lot nicer, bigger, and we're carrying a lot of new products that we didn't carry previously." The new features include:
Smartwater (@smartwater)
Tradewinds Tea (@DrinkTradewinds)
Sweet tea at the Fountain
Milkshake machine with 8 or 9 flavors
Boneless chicken wings 24 hours
Sandwiches and baked goods from Wagener's Little Bake Shoppe
Washer and dryer laundromat
Bigger Showers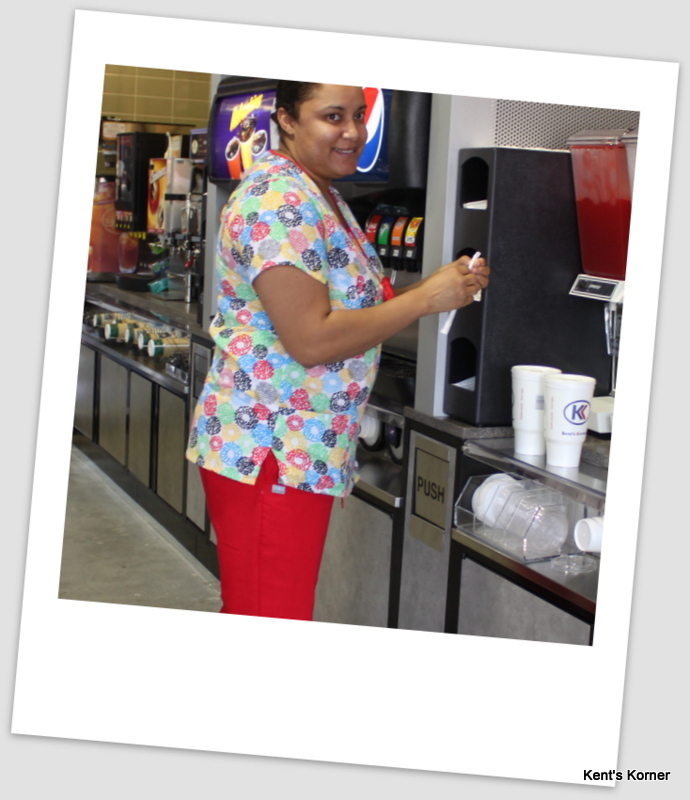 To celebrate the Grand Opening, this one Kent's Korner location is offering any size fountain drink for only 25 cents, limited time. Many customers came in for their 25-cent soda and took a free pizza to go with it.
The Grand Opening was packed. The excitement level was off the charts, people running around with free pizza, sitting at Huddle House enjoying a meal, or running fountain drinks like the school water fountain. It was just plain old fun.
Local business supporting local business.
This Kent's Korner location is now carrying sandwiches and baked goods from The Little Bake Shoppe, based right here in Wagener. Clay Ingram, CIO Garvin Oil Company, Inc. said,
"Since everyone in Wagener is addicted to their doughnuts, we need to make sure they have a fresh cup of our 'Koffee' to wash 'em down. And since they are supporting local business, no need to feel guilty about having two.. "
Local folks as well as out-of-towners were enjoying the Grand Opening. These local fellows enjoyed the Huddle House lunch, saying that
"Little Megan (their waitress) was working hard making sure we were both happy. She's good. Every time my tea was half empty, she was there to refill it. And that makes for happy people."
I had a chance to speak with Desiree, the Huddle House manager, just two days before the Grand Opening when she was checking every plate and glass and table in the place. She was more than ready to reopen.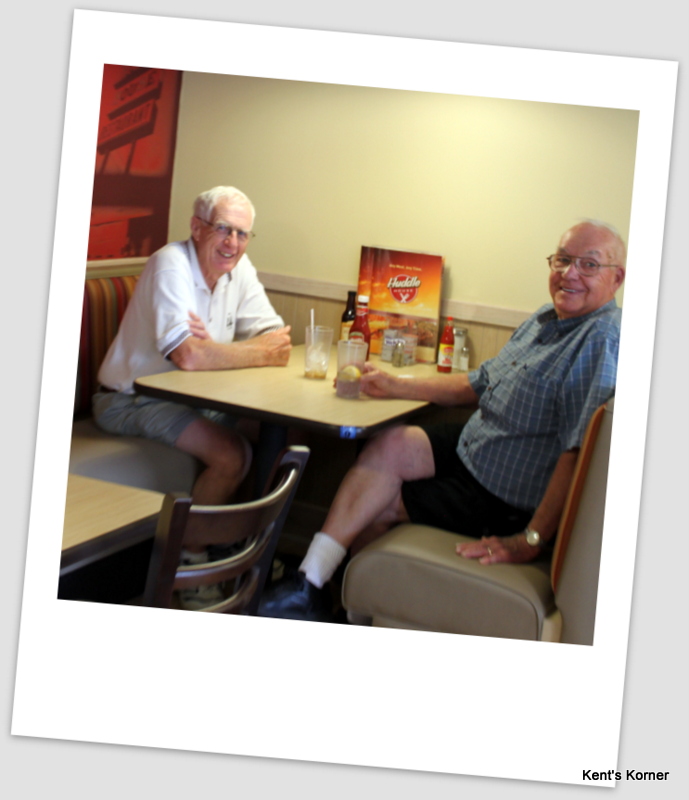 I met up with these two guys who had no idea it was the Grand Opening. One was from Aiken, the other from NY State, but visiting in Lexington. They wanted to "meet in the middle" and that was Exit 33.
"I'll be back!" Claimed the one from NY. "We travel a lot. This place is nice because we can get our motor home around easily. We can't go to a Waffle House with our motor home! Here we can easily park it and turn it around, no problem."
They both agreed it was excellent food and excellent service.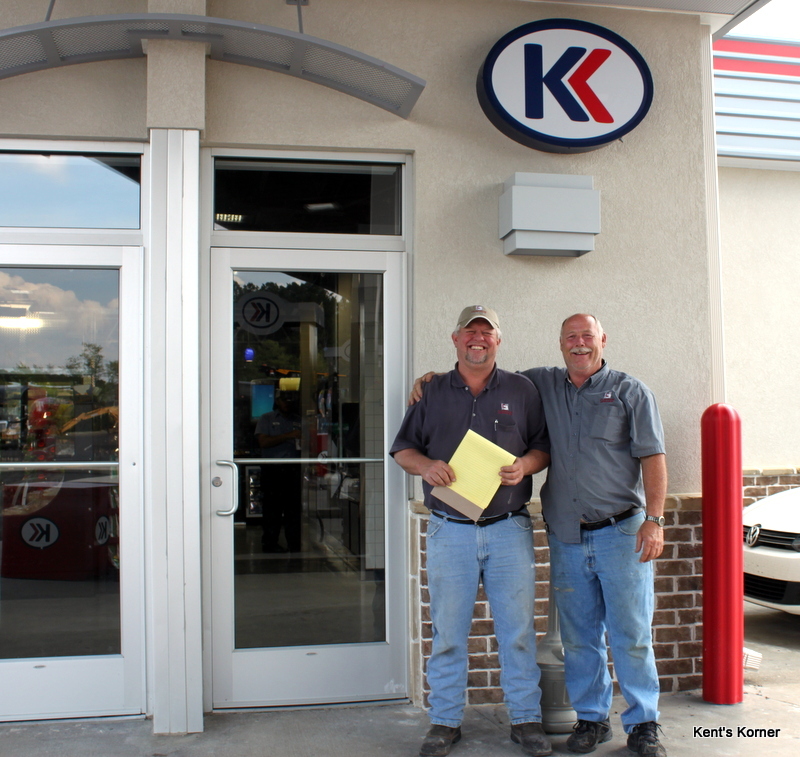 Of course I had to speak to the happiest guys in the place - I wanted to know why they were so happy - they had no free pizzas, no 25-cent drinks. "What's up, what are you doing?" I asked.
It was Rich West and Don Golden, superintendents from Clifton Construction, the folks that did most of the remodeling. I complimented them on a job well done.
I think they blushed.
Check out the Grand Opening photos in the Kent's Korner Facebook page Album.
Follow Kent's Korner on Facebook at Facebook.com/KentsKornerConvenience.
Follow Kent's Korner on Twitter @KentsKorner.
Sign up for special coupons and deals with the Kent's Korner Mobile App.