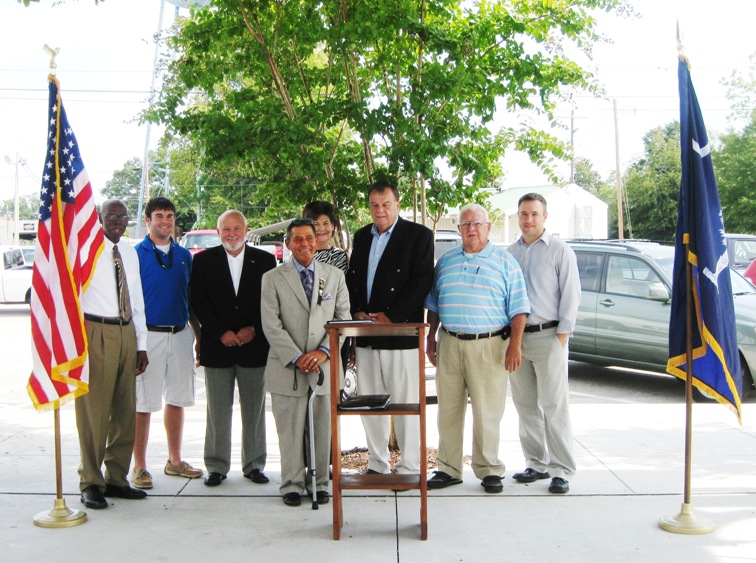 Pictured:  John Hudson, Ethan Busbee, Ronnie Young, Sam Smith, Kathy Rawls, Mike Miller, Jack Atkinson, Dave Heffron. The presentation of the Governor's "Order of the Silver Crescent" Award to Wagener resident Sammy L. Smith took place at the pavilion in the heart of the town he loves under a warm mid-morning sun on September 8, 2010.   Mayor Mike Miller, members from the SC State Garden Club, Aiken County Council, and Wagener Town Council, as well as the many people Smith has worked with through the years were on hand to pay tribute to Smith's lifetime of service to the town of Wagener.  The Order of the Silver Crescent is one of the highest civilian honors in South Carolina and is awarded by the Governor to people who make a significant contribution to a particular SC town or city.
Long time friend, Jim Garrison began the ceremony by unveiling a black and white photo of Smith, circa 1950, and referring to a little Sammy Smith as Wagener's Dennis the Menace.  The little Sammy Smith who would aggravate neighbors such as Iris McLauren, Tyme Ward, or Virgie Farris by picking their beautiful blooms as he strolled by.  How many times Smith's mother would get calls with pleas to "Keep your boy out of my flowers!"  And what an honor now, many years later, for Sammy Smith to be in partnership with bringing us the SC Garden Club's "Follow the Blooms" in Spring 2011.
Garrison went on to list the many ways Smith has led developments for improving the town of Wagener and supporting the needs of the residents.  Some of Sammy Smith's accomplishments include
Chaired the Wagons to Wagener Festival many years
President of the local Garden Club
Writing grants to construct Welcome to Wagener signs
Completion of the new entrance to the Wagener Cemetery
Chair of the Wagener Downtown Development Commission
Completion of local parks
Upcoming project bringing the fighter jet to the Blue Star Memorial Park, Fall 2010
Traveling across the state promoting civic development as a member of the board for the Garden Club of SC
Founding board member of Christ Central Institute
Edisto Lake Property Owner's Association
Phase I of the new Museum
"Since he was 18," Garrison said, "Sammy Smith has been devoted to the town of Wagener, promoting civic development.  He only sees the potential.  This is a well deserved honor.  Thank you, Sam, for all your efforts."
Mayor Mike Miller then took the podium on behalf of Governor Mark Sanford and said a few words, followed by town councilman Dave Heffron.  In the midst of the roar of the tractor trailers driving down Highway 39, Heffron read a letter from Sanford in which Governor Sanford thanked Smith for "his unselfish work and numerous contributions, making this community a better place to live, work and play."  Sanford described Smith as a model of citizenship who shows the highest ideals of servant leadership.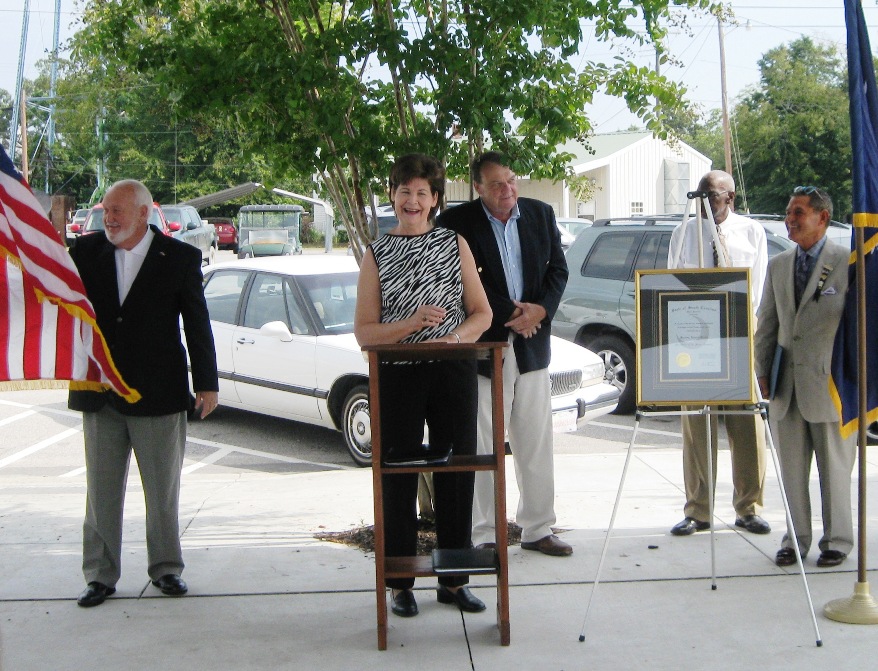 Kathy Rawls then took the podium, bringing an air of humor to the presentation.   "Sammy Smith has been so involved in civic developments," Rawls began, "that I even have his number on speed dial."  Rawls continued in a more serious tone, "It has been my pleasure to help him.  I'm very proud of our community.  All these trucks passing by are just a sign of progress.  I am proud to be a part."
County councilman Ronnie Young spoke.  "Wagener is close to my heart."  Young told some stories involving local folks and finished by saying, "Without Sam's leadership, things wouldn't have happened.  I know he had help, but somebody had to get the ball rolling and that usually was Sam."
Finally, it was Sam Smith's turn to talk.  "You don't know what an honor this is to me."  Sam related how excited he was when he first heard the news and how he just had to tell someone so he called Kathy Rawls.  "See, I have her on speed dial, too."  Smith joked.  Turned out Kathy already knew about it, as did all of Sam's other friends, he couldn't break the big news to anyone.  Smith continued, "What I'm trying to say is these people - Kathy, Ronnie, Judy, Betsy - when I'm looking around the crowd here today, these people are dedicated friends.   I see everyone from my fashion consultant at Lionel Smith, my investment broker, club members, church members, friends and then I see Wilson, my undertaker, what are the chances?" 
The week prior to this presentation found Sam Smith in a precarious situation: Smith suffered a stroke.  While in the hospital, he wondered about making it to this presentation.  He related how he recalled his Sunday School teacher at Millbrook saying "The Lord is always in control.  He knows your needs and your desires."  "And my desire," continued Smith, "was to be here today to receive the award on behalf of all the people I've worked with along the way.  When I drive through Wagener, I see the touch of Mayor Steve Carver, Ronnie Young, Koster Brown, Gloria Collum, Vernelle Casey, Christ Central Institute and Pastor Jimmy Jones.  I see the work of Jim West, Nancy Bonner, Suzanne Bishop, Ed Labine, Kenneth Smith, and Doug Busbee."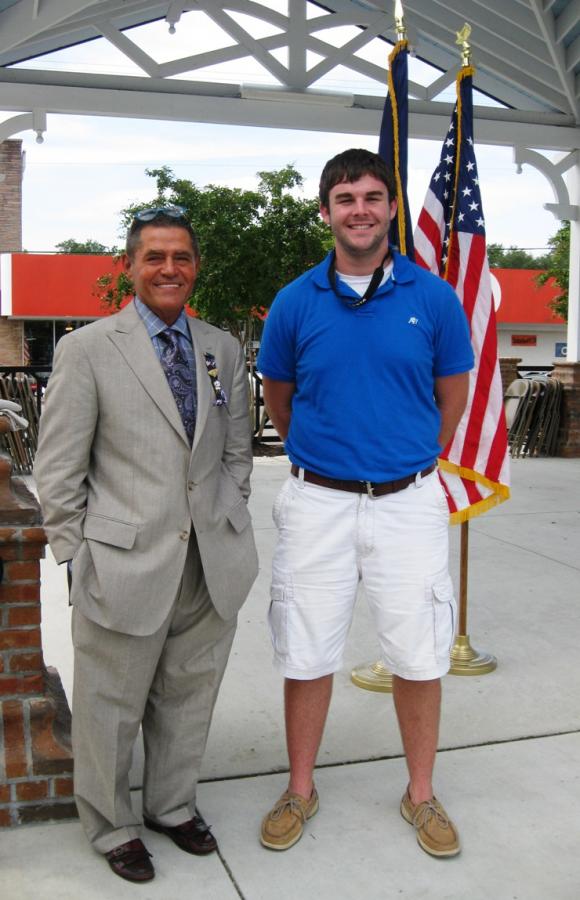 Sam Smith then gave special recognition to WSHS Senior, Ethan Busbee, "He touched my heart in the recent Wagener Monthly.  He pretty much said everything I could possibly say about Wagener in his article, 'What Makes My Community Special.'"   Smith proceeded to read Ethan's article for the crowd, followed by this quote from Abraham Lincoln that a little old lady had stuck in his hand one day.
"I like to see a man proud of the place in which he lives.  I like to see a man live so that his place will be proud of him."
Sam Smith ended with a charge to Ethan Busbee:  "I hope someday you can stand up here and have someone present you an award and tell you how much they appreciate you."  
The presentation was followed by a reception at Security Federal and as we closed, one couldn't help but feel a passing of the torch sentiment from one generation to another.  But I think Sam Smith has a lot more miles to put under his belt.