WSHS student new president of S.C. FFA
Courtesy of the Aiken Standard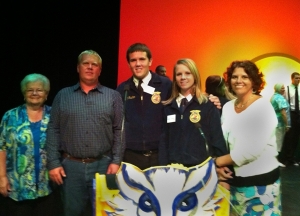 Last summer Trent Rushton set up his own produce stand in the downtown area here, complete with his own tomatoes and squash and cucumbers, as well as vegetables and fruits from other farmers.
"I made some money and enjoyed talking to people," said the rising senior at Wagener-Salley High School.
Rushton won't have time for such activities this summer, not after his selection as president of the S.C. FFA chapter following the recent state conference. He'll be traveling a lot in his new position.
He had sought a state office on the suggestion of his agriculture science teacher and FFA adviser, longtime Wagener-Salley educator Allen Williams.
Unless an FFA member has a really good shot of winning a state office, Williams won't encourage it. But he started talking to Rushton about it nearly a year ago after his student was chosen as the school chapter president.
"Trent is smart and well-spoken and is morally a good kid," Williams said. "He's kind and big-hearted and confident and is truly a team player."
The son of Michael and Carolyn Rushton, Trent spent a lot of time as a boy at the farms of his grandfathers. His parents also had been Williams' students at Wagener-Salley, and as Trent approached high school, they encouraged him to get involved with ag education and FFA. Trent took to it right away as a freshman.
"A lot of us got busy and were doing a lot of activities," he said. "The program helps anybody who wants to be a better person. You learn about agriculture but also about respect and other life lessons. Mr. Williams is an excellent teacher, and, from the first day, he told us how we decide our own future. If you're willing to listen, he'll help you."
Last year, Rushton and three classmates took third statewide in an ag mechanics competition. The team – which includes Harley Gallop, Grayson Joye and Bobby Chavis – returned this spring and took first place, qualifying for the nationals at Indianapolis, Ind., in October.
The FFA state office process is rather unusual. About 15 students applied for six state offices – not for a specific office but for any one of the six. Rushton went through a lengthy interview process with both adults and students, as well as a written exam and a role-playing exercise, in which he discussed his goals for the state FFA.
"There's so much that goes on with FFA, but so many students are not as involved as others," Rushton said. "I want to see what we can do about that."
He and the other new state officers will stay busy over the next year, attending leadership programs and conferences in Washington, D.C., Myrtle Beach, Florida and North Carolina. They will be responsible for the planning of the entire SCFFA state conference next summer.
Interestingly, Rushton's long-term plans for now involves the pursuit of religious training. He's an active member of the Bethel Pentecostal Holiness Church in Salley and is considering the ministry or becoming a professor of religion.
Still, FFA's mission, Rushton said, is about making a positive difference in the lives of students and developing their potential for leadership, compassion and career success. Such goals have their own spiritual aspect, he said.
"I'm meant to be a part of agriculture education for the rest of my life," said Rushton.
Wagener-Salley principal Pat Keating noted that the school also produced another FFA state president when Carrie West was selected in the 1990s.
"This is an incredible honor for Trent," Keating said. "It speaks volumes about what he has done as a student here and what Allen Williams has done as an adviser."
Senior writer Rob Novit is the Aiken Standard's education reporter and has been with the newspaper since September 2001.
He is a native of Walterboro and majored in journalism at the University of Georgia.