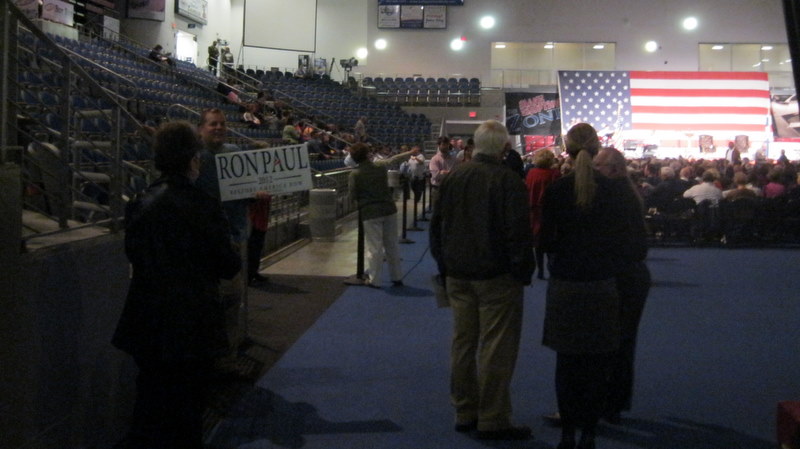 Wagener was well represented at the Presidential Campaign Rally at the USC Convocation Center on Tuesday, January 17th.  This was the 5th consecutive Presidential Campaign Rally (The Aiken Stump) sponsored by the Aiken County Republican Party and the Greater CSRA Conservative Coalition.   While planners hoped all the candidates would participate in this open forum, only Newt Gingrich was able to attend.  In front of a large flag provided by Satcher Ford, Gingrich opened with a light-hearted speech and outlined some of his major objectives.  Gingrich's speech was followed by a time of Q&A.
The rally had an upbeat party atmosphere for a crowd of 1,000.  Music was provided by LightStream-Media.  Kristie Hutson with her band Water's Edge beautifully sang some Patriotic songs.  Country Music Legend Leon Everette performed several songs including the debut of his new song "United States of America," written by Aiken songwriter Mike Stewart.   You might recognize Leon Everette from Faith Riders Fellowship, a local church led by Pastor Jack Atkinson.
After an opening prayer, the meeting was led in a moment of silence for slain officer Scotty Richardson.
The Republican Primary will be held Saturday, January 21, 2012.  Wagener voting will be held at the Town Hall.  Click here for a complete listing of Aiken County Precincts.
Where you can see the candidates:  Newt Gingrich will be hosting a press conference at the capitol in Columbia Wednesday the 18th at 11:30 am and he will also be hosting a town hall meeting Wednesday at 1:30 in N. Augusta at the Old McDonald Fish Camp.  Santorum is hosting a town meeting in Laurens at 12:45 pm Wednesday.  Romney is having a rally at Seven Oaks Park in Irmo Wednesday night, 7:15.    You can meet and greet Rick Perry at Hudson's Smokehouse in Lexington Friday the 20th, at noon.   The primary candidates will have another debate Thursday night at 8 pm, hosted in Charleston.
Read more about the Rally and Gingrich's speech at the Aiken Standard and Augusta Chronicle.